Photo Credit: National Park Service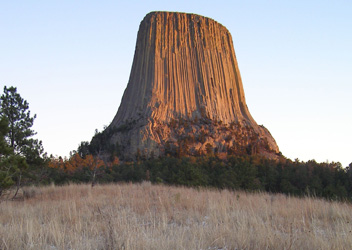 Contact Us
Devils Tower Natural History Association
Sandra Mooney, Executive Director
15 Prairie Dog Lane
P.O. Box 37
Devils Tower, WY 82714
sandra_mooney@partner.nps.gov

307-467-5283 Ext. 631
FAX 307-467-5501

Visitor Center phone: 307-467-5283 Ext. 640

Devils Tower National Monument is open 24 hours a day, 7 days a week.
DTNHA Bookstore Visitor Center hours of operation:

March thru April - 10:am to 4:00pm, 5 days a week closed Sunday and Mondays

Early May until Memorial Day weekend - 10:00 a.m. to 4:00 p.m, 5 days a week

Memorial Day weekend thru Labor Day - 9:00 a.m. to 6:00 p.m, 6 days a week. Closed on Mondays
After Labor Day thru September - 9:00am to 5:00pm, 7 days a week

Please feel free to contact Chris Campbell, Sales Manager, at 307-467-5283 Ext. 639 or at chris_campbell@partner.nps.gov any time of the year.